WARNING: This post is quite image and text heavy!


As soon as I saw the print of these dresses I knew I wanted (dare I say… needed!) it. I couldn't decide on the ivory x black print JSK or the black x gold so I compromised and- no, wait, I got both. Hurp.
The sample photo they provided of the ivory x black colourway JSK.
The specs were as follows:
Made of velveteen, fully lined with hidden pockets, and a detachable velveteen waist tie and bow.
The three colour options were ivory x black print, black x gold print and wine x gold print.

The JSKs came in two sizes and prices (copied from the reservation page):
size S/M, $200 USD
bust: 86~96cm / waist: 66~76cm / length: 110cm
size L, $210 USD
bust: 100~110cm / waist: 80~90cm / length: 110cm
I am a 37 bust (94cm), 28 waist (71cm) and 5'4" tall (162.5cm) so I chose size s/m as I was hovering around the centre size. I am glad I did because I would probably be swimming a bit in the L size.

Timeline:
Reservation: The reservation period for these was from December 30th to January 3rd, and reservations went through the lief_lj community. Questions from customers were met with quick replies.

December 31st: I put in my reservation request form, for two JSKs with air parcel (the cheaper option) shipping to Canada. I was kind of iffy on the black x gold version with white trim but I figured I could live with it. A few other people had asked questions about it and received answers that Lief would talk to the manufacturer.
January 4th:

Lief contacted everyone to let us know that the black and wine versions would no longer have a contrasting colour band (that is, white trim on the black version and black trim on the wine version) and would be a solid colour. They gave us the option to continue with the transaction or change or cancel if we didn't like it. I was hoping for an all black JSK so this was more than fine with me. I responded that I was still going to get it and they replied thanking me.

January 5th:

I received the invoice and paid via Paypal. They also told me that they were upgrading my shipping from air parcel to EMS because it was the same price to ship both dresses to Canada. Handy!

January 15th:

Received an email stating that the master reservation list had been sent to the manufacturer, and a bit of info regarding people who hadn't received their invoices yet.

January 29th:

Received an email saying that the first batch of items had been sent out, and that people should start receiving their items soon. The wait is on! I was expecting maybe a week or two, so getting it two days later was a happy surprise, haha.
January 31st:

I got an email while in class from my roommate at around 11am, that I'd just received a package. Pretty giddy for the rest of class until I could get home, haha.



So it literally took one month from reserve to receiving, pretty timely, I think!
Here's what I received:

The box (post opening):
Both dresses were packed neatly in plastic.
Each dress came marked with the size and type.
The black x gold jsk. In my giddiness I forgot to take a full shot of the ivory one, derp.
Detail shots:
Detail of the print on the bodice.
Closeup of the print on the black JSK- natural (overcast) lighting. Insane amount of detail!
The print with flash (so pretty!)
The black on ivory print. If you'll notice, the print is darker on the left side of the print than the right. I took some closeups to compare.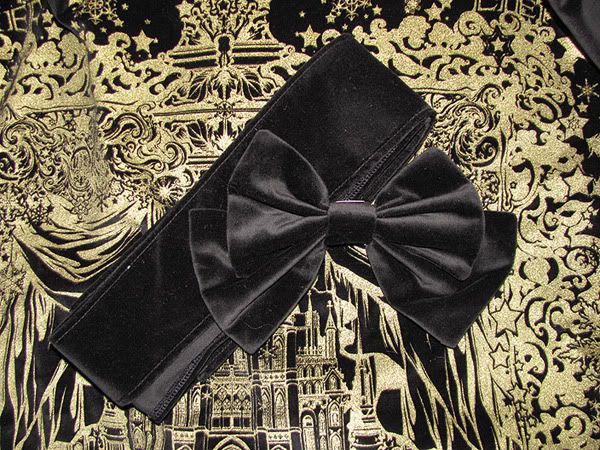 the waist tie and removable bow that came with each dress.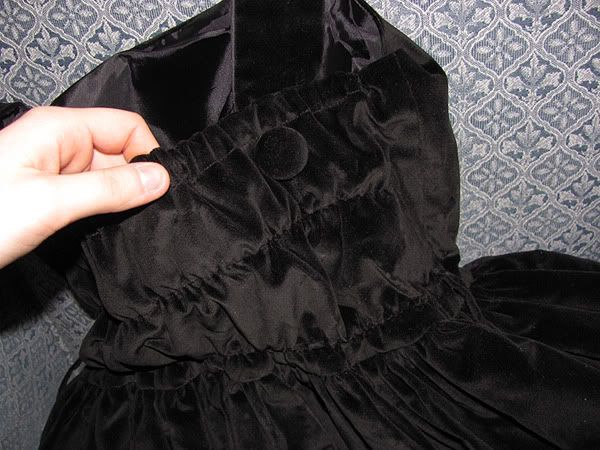 The shirring on the back. the buttonhole was just right- not too big or too small. However I did have an issue with the shoulder straps, more on that later.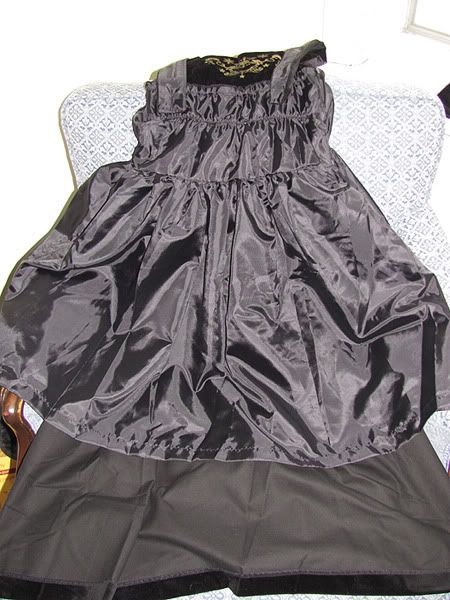 Both JSKs (and the skirts too, iirc) are lines about halfway down the skirt portion.
One of my only issues: the fabric of the straps are cut off right after the button, making it difficult if you want to lengthen them, which I'd like to do since the straps seem to fall down a bit otherwise (maybe fixed with rubber backing?), and to make
Comparison shots:
(And here's the part where I'd like to thank accidental google searching for losing the last half of my post and having to start over B:)
You can see here where some of the print looks like it didn't take all the way/can see the velveteen through it.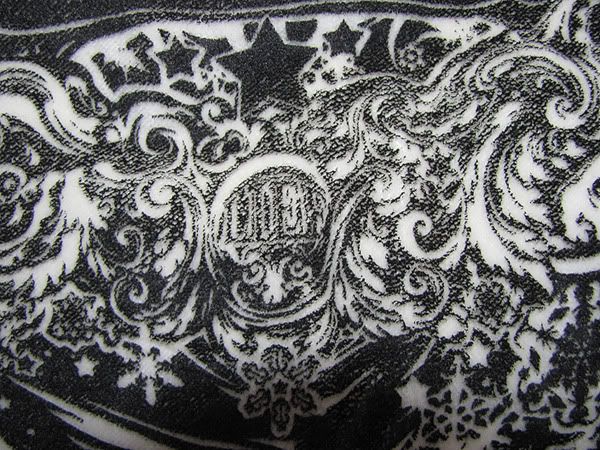 The right side of the print.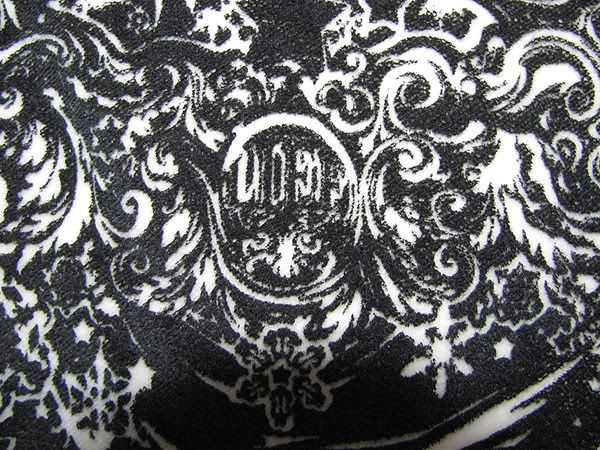 The left side- it's noticeably darker than the right.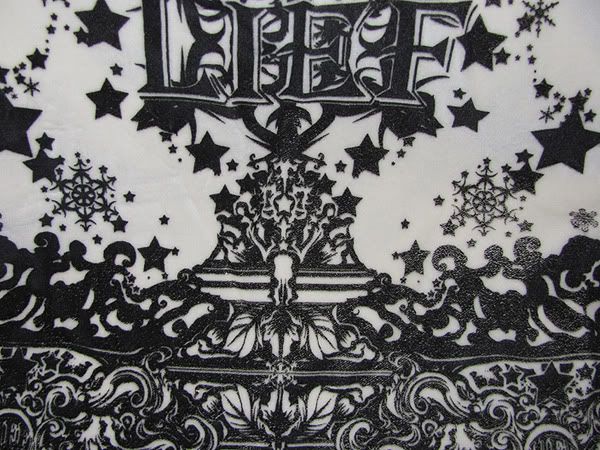 You can sort of see how the dark and light sides start from the centre of the print. you can see the velveteen through it on the right side.
Conclusion
Here's where we get to the conclusions/review-y part with stars and ratings and whathaveyou!
Communication: 5/5 Answering questions quickly and helpfully, keeping us updated, and having friendly service made it good; Taking customer suggestions to heart (regarding the black colourway changes) made it great.

Cost: 5/5 While the JSKs were a bit more expensive than the skirts at $200 each, the soft and thick velveteen, great print, and length are worth it in my opinion.

Shipping: 6/5 I'm giving them this because they upgraded my shipping (though it was more of a convenience thing), and I received it less than two days after they notified us of shipment. Awesome.

Print: 4.5/5 I'm knocking off half a point only for the variation in print coverage on the white JSK. It's not really a huge deal at all and isn't really noticeable unless you're really looking at it, and with a print that intricate it's not any real hinderance.

Construction: 4/5 I had two issues with the dresses- the straps weren't long enough for me for it to sit at my waist, and felt a bit high in the armpit, as well as falling down a bit because of it. This would be an easy fix if they had left some extra fabric past the buttons on the straps. I'll find a way around it though, it's not really a huge issue and someone else might think it's a perfect length. Also, on the black JSK, I would have liked to have had the same buffer of fabric between the print and the hem, as it looks a little bottom heavy without it. Again, not a big deal, it just would have been a preference.

Overall: 4.5/5 Absolutely beautiful print, great construction, great customer service. The velveteen was very soft and warm, and great for winter! The print is absolutely classy and I love it. My only real complaint was with the difference in hem length in the black colourway, and that's not even a huge one. I would definitely buy from Lief again if they came out with something like this again, and I'll be keeping an eye out for their next series.
Pictures! yay!
The white JSK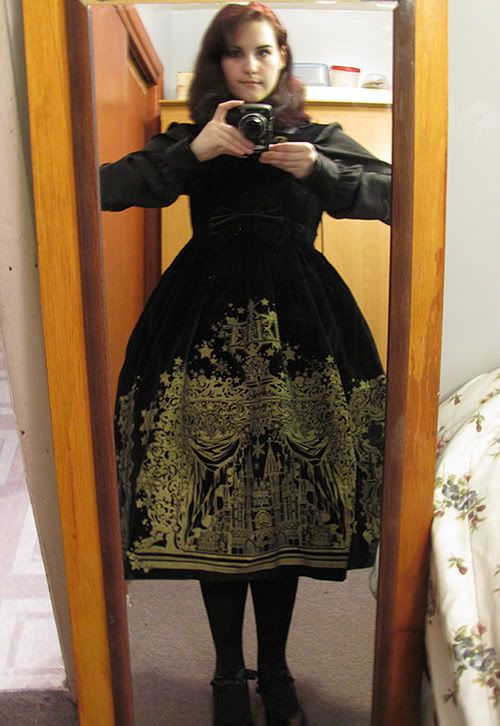 The black JSK (with derpface and my real hair)
DERPDERPDERP
Daft Lolita, OUT.
Thank you for reading, if you're still awake after that :'D